What's New in the CU

Here are the top things we're looking forward to in the coming months at Cedar Point. Check back periodically for new exciting happenings.
Cedar Point Named to Forbes Best-in-State Credit Unions for the Second Year
On June 25, 2019 Forbes announced their 2019 list of Best-in-State Credit Unions across all fifty states. For the second year in a row, Cedar Point Federal Credit Union is ranked among the top three credit unions in the state of Maryland. Learn more >
In total, 182 credit unions across the United States received awards, which accounts for 3.3% of all the credit unions headquartered in the U.S. Out of 84 credit unions headquartered in Maryland along with a number of other credit unions which also have branches in the state, Cedar Point snagged a top spot in 2018 and again in 2019. "Our credit union has been around for almost 75 years and we've learned a lot in that time," says President & CEO Charles Roach. "We attribute this success to the hard work of our employees, whether that time is spent helping our members in the branch or volunteering in the community. They've really made a commitment to each other and to our members."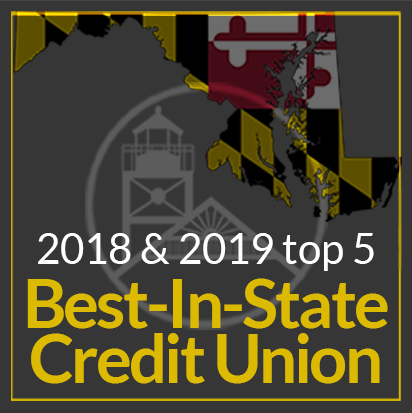 As a core tenet of the credit union movement, the commitment to member satisfaction is top priority. But when Cedar Point sent a blind survey to its members in 2017, the credit union discovered areas which had room for improvement. "So we spent 2018 and beyond making improvement initiatives," Marketing Manager Kristin Kauffman stated. She explained that the credit union began by connecting over 50,000 surcharge-free ATMs to their network in March of 2018, implemented a website overhaul in the summer and installed a new mobile app in November. In December, Cedar Point was proud to be able to give back over $223,000 in extraordinary dividends to its members.
Cedar Point has seen an increase in membership and community awareness since beginning these initiatives and hopes to see those numbers grow as a result of the Forbes Best-in-State ranking. "Our credit union is open to the community," Charles Roach stated. "So when our members take the time to score us highly on a survey like this two years in a row, we know we're doing something right for Southern Maryland."
"It is a great honor for Cedar Point FCU to be recognized by Forbes as one of the top five Maryland credit unions," says Chairman of the Board Gene Townsend. "This is a testament to our employees, management and our board for ensuring our members have a satisfying experience."
Cedar Point Wins National Award for Social Responsibility
On June 3, 2019, Cedar Point was honored to be presented with the prestigious Dora Maxwell Social Responsibility Community Service Award from the Credit Union National Association (CUNA) and the MDDC Credit Union Association. Winning first place in the state of Maryland, the local credit union will now move into consideration at the national level.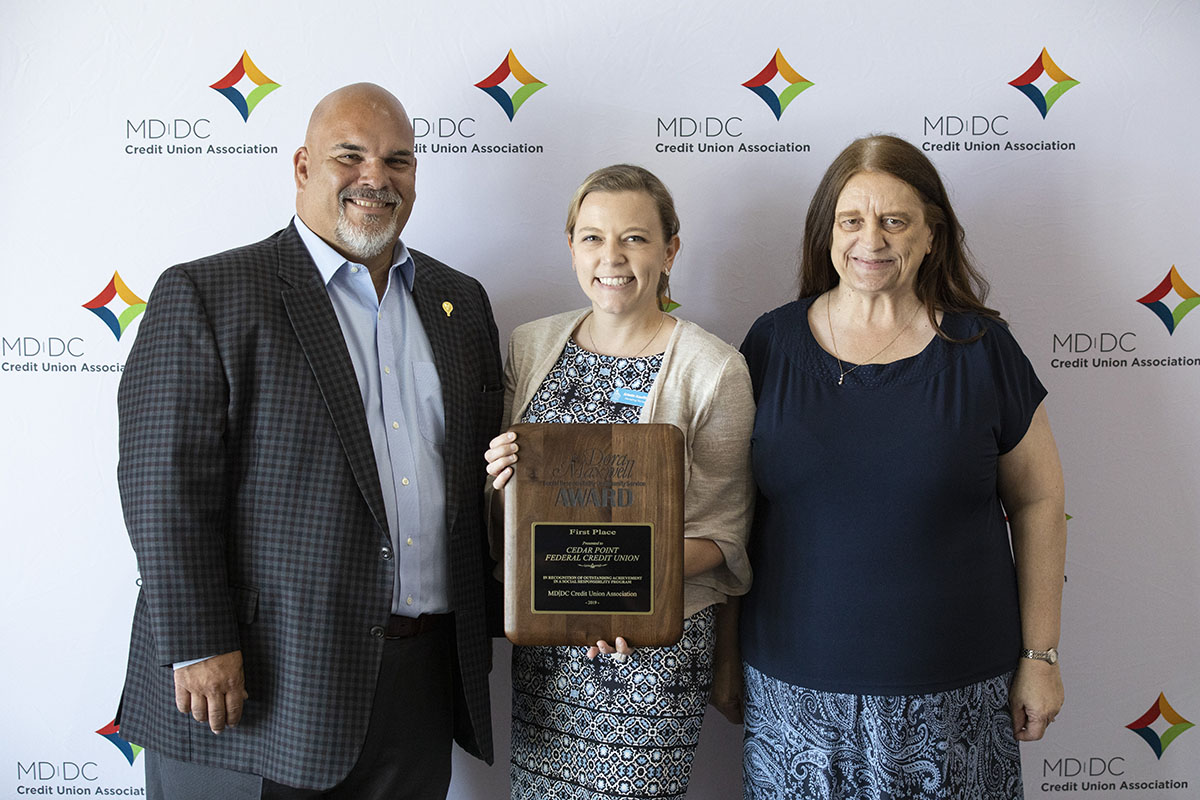 "All credit unions focus on their communities," says CEO Charles Roach. "And all credit unions face the challenge of how to do that best and how to really own it. At Cedar Point, we believe in building meaningful partnerships in our communities." Whether that is through making a financial commitment or making a commitment to simply being present, Cedar Point has made a monumental effort to get out and support the community in the past two years.
Since 2017, Cedar Point has helped rebuild homes with Christmas in April, helped with Earth Day revitalization, gathered and delivered supplies to hurricane victims, delivered nearly 1000 winter coats to local missions and spent time with members of the special needs community through their partnership with SMCR. "And those are just the things we've done together as a team," says Marketing Manager Kristin Kauffman. "In just the first five months of 2019, our employees have dedicated over 586 hours of their personal time to community projects. I think that CUNA really sees our efforts as representing the values of the credit union movement."
The Dora Maxwell award was given to recognize the volunteer service that the credit union's employees have worked so hard to make happen. "This award would not have been possible without our tireless employees," says Roach. "Their creativity and dedication inspires our management team and we have the deepest respect for each of them."
Introducing "Junior"

Youth Accounts at Cedar Point have a new mascot named Junior.

"We're going back to our roots," said Linda Knott, Executive Vice President at Cedar Point. Knott has worked at the credit union since the early 1980s and she's really seen the youth program grow. In 1992 the Moola Moola children's club was introduced, and was the first youth program in any financial institution in St. Mary's County. "It was always about teaching responsibility to our young members," said Knott. "Barbara Horn recognized the need to provide financial education for the young people in the county. So she made it happen."

To put this in context, Barbara Horn was about to step into the role of CEO. She was taking a marketing course at the former Charles County Community College in 1992 when she received an assignment. "We had to start up a business for the project and follow it through," said Horn. "So I researched the Youth Account idea and found a character called Moola Moola which we could license." Moola Moola was not only a mascot, but an actual costume worn by employees on Saturdays and at special events. "He would host birthday parties at the credit union" Horn remembers fondly. "And he attended grand opening celebrations for new branches and ATMs."

Moola Moola was eventually discontinued by its parent company after the millennium, and Cedar Point began using Looney Tunes mascots through a partnership with Deluxe. "Looney Tunes were really great characters to have around at that time" said Marketing Manager Kristin Kauffman. Eventually, though, there came a time when those characters stopped resonating with young people. "We wanted our mascot to be able to actually give tips and tricks and talk about what's happening in the community. Our license didn't give us the ability to do that with the Looney Tunes characters."

So, the credit union embarked on a mission to learn more about what its young members and their families wanted from the program. "We interviewed employees and spoke to parents." Kauffman said. "We learned that the art of writing checks at a young age is not as important to parents as learning how to use money wisely. How to save and how to share." Out of this, the team evaluating Youth Accounts came up with a game it could share with its young members.

"The most exciting part is our new mascot!" Kauffman shared. Junior was developed by a small team. Rebecca Whitley, an employee in another department, had designed characters like this for other groups and personal projects. Given a few points of inspiration and t-shirt colors from the Marketing team, Whitley ran with it. In Kauffman's opinion, Whitley's design hit a home run. "At our Annual Meeting in March, we brought Junior out as a kind of soft reveal. Our members were delighted by him and the idea behind his creation from the moment they saw him."

The credit union's history with the Cedar Point Lighthouse was the inspiration for the character. "Our credit union should be the guiding light for those trying to find their way" said Kauffman. "The metaphor is a perfect fit with our core values." This is how the Junior Keepers Club was created. The concept centers around Junior and his family, who are lighthouse keepers. Through his duties at the lighthouse, Junior learns all about responsibility and accountability. "As a keeper he is also a saver," says Kauffman. "Junior will be a great voice to help us teach youngsters in our Youth Account program about the importance of saving and social responsibility."
| | |
| --- | --- |
| On February 14th, the students from the Chopticon High School Academy of Finance stepped out of their daily classroom routine to spend a day in the real world. Twenty-four students spent the day visiting our Headquarters Office, touring the credit union and meeting with representatives from various departments. They learned about the many different aspects of keeping a financial institution running smoothly from what training a teller receives to the importance of continuously updating the marketing strategies and technology used by a financial institution. | |
Welcome, Charles County
Cedar Point was organized in 1945 to serve the civil service employees of the Patuxent River Naval Air Test Center. After serving those select employee groups faithfully for nearly 65 years, our credit union received its community charter in 2009.
Our community charter allows us to serve more individuals and families in the Southern Maryland region, encompassing those who live, work, worship, go to school in or regularly conduct business in St. Mary's, Calvert and Charles Counties. With five branches spread across St. Mary's and Calvert counties, we are beginning to turn our eyes toward Charles County.
A dedicated committee has determined a location in Waldorf in which to construct a new branch. With this exciting new step, Cedar Point hopes to break ground in 2019, with a projected grand opening in Spring of 2020.

This new branch will feature state-of-the-art technologies, while still maintaining the personalized service our members have come to associate with Cedar Point.

Stop back in for more information, coming soon!