Digital Banking
Digital Banking is a digital access system that enables you to use the Internet to access your credit union account(s). This service is available 24 hours a day, seven days a week, providing you with the flexibility to take care of many of your financial transactions without requiring you to visit the credit union. There is no fee for this service.
As we prepare for this upgrade, please take note of two key items and the dates associated.
If you currently have our mobile app, it will be discontinued Monday, November 12. The new app will be available Wednesday, November 14, and the link to download will be provided here and on our home page as soon as it becomes available. You can also search for Cedar Point Federal Credit Union in the App Store or Google Play.
Web access to digital banking will be limited during this upgrade beginning Monday, November 12, 3 p.m. Full access will be restored the morning of Wednesday, November 14.
New Digital Banking Platform Coming November 14, 2018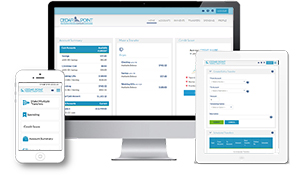 Some brand new features you can expect:
Personal Financial Management tools
Internal and External Transfers
Seamless look on all devices
Customization tools
Biometric authentication
Instant Balance views
Learn more by checking out our article
What you should do to prepare for the switch
Our new platform will require a simple registration for all members, and the following information for your account must be up-to-date and accurate:
Current address
Phone number
Email
There are two ways to check and update your information. Please note that we cannot change any personal information over the phone for security reasons.
visit a branch to make the changes,
or you can update online through your current online banking account by following these easy steps:

Sign in to your online banking account.
Choose Your Preferences and Contact Information in the drop down.
Review your information and update it, if needed.
Browsers
Online Banking can be accessed with any Java enabled certified browser:
Internet Explorer version 9 & 10
Chrome latest version
Firefox latest version
Safari latest version
Note: Screens may not function correctly, or you may not be able to access this service, if a different browser is used.
Posting Schedule for Online Checks
Electronic images are available through Online Banking for checks cleared in the last 6 months. New images are posted Monday-Friday for checks cleared on the prior business day.
Activate Your Account
Beginning Wednesday, November 14, 2018 registering for digital banking will be a breeze. You can download the app from the App Store or Google Play or you can return to our home page to get started. Choose "Sign In" from the home page. On any device, choose "Register" and follow the steps.
We'll add a button here to download the app just as soon as it is available!
Online Transfers

Transfers can be made between Cedar Point accounts by accessing the Transfer menu option within your digital banking account.
Transfers can also be made to accounts at other financial institutions.
Recurring Transfers may be set up if you prefer.
Transfers via digital banking are subject to a federal regulation known as Regulation D.
CPFCU Mobile

Cedar Point's new banking app will be able to help you with your digital banking needs. We know it isn't always easy to get to a computer. But most people have smart phones these days. Our app is compatible with iPhones, Android phones and tablets.

Download the Mobile App

These buttons lead to the download of our current app, which will be discontinued as of Monday, November 12.
Mobile Deposit

CPFCU Mobile Deposit is easy to use, and convenient. You can deposit checks directly into your account using your Android or iPhone just by taking photos of the front and back of your check.
Using Mobile Deposit
Endorse the back of your check. Write your name, account number and the words "For Mobile Deposit Only at CPFCU". Be sure to leave no extra space between the lines of your endorsement. Keep all marks above the endorsement line printed on the back of your check.
When prompted for the amount, carefully enter the check amount to ensure it matches the amount written on your check.
Flatten folded or crumpled checks before taking your photos and be sure to keep your phone flat and steady above the check when taking your photos
Make sure to capture the entire check and not too much of the areas surrounding the check.
Check your image for the following before submitting your deposit:

No shadows across the check
All four corners are visible
Check is not blurry
The MICR line (numbers on the bottom of your check) is readable.
Other things to remember
Only one check can be deposited at a time
The total deposit limit is $3000.00 per day.
Once your deposit is submitted, it will be reviewed by a teller. You can log in to your CPFCU Mobile App to confirm your deposit has been accepted.
Be sure to hold on to your check for at least 30 days in case there is a problem.
A check that has been submitted for mobile deposit may not be redeposited or cashed.
Popmoney

Popmoney, the industry leading person-to-person payment service, features a large national payments network. It's safe and secure and all you need is an email address or mobile phone number. You can import contacts from popular email services, set up future-dated and recurring payments, add multiple email addresses for a contact, and more.

People who do not use a bank or credit union in the Popmoney network can use the Popmoney service at popmoney.com.*

Popmoney can be found by accessing your Online Banking account. Once signed in, choose tab BillPay > Pay Bills
Popmoney FAQ
How secure is Popmoney?
Information is sent to Popmoney is encrypted using industry leading software, hardware and algorithms. Security is also utilized at specific points and actions in the product. For example, to help prevent an unauthorized person from fraudulently depositing someone else's payment, one-time passcodes are used. For every initial payment to a new email address or mobile phone number, a one-time passcode is sent to the user. The user must provide that passcode back to Popmoney to verify his "ownership" of that mobile number or email address before he can deposit the payment.
How fast can I send and receive money with Popmoney?
A recipient can receive money in as little as one business day. However, in some cases it may take longer. For example, if you send an email or mobile payment and the recipient is not yet registered for Popmoney, he/she must sign up for the service so that we have their account information to deposit their payment. Also, if you exceed your next-day payment limits, then we will deliver payments within three business days. Limits can and will vary and can be checked by clicking the Help icon on the Send Money screen.
How are payment limits handled?
Limits apply to the amount you can send per transaction, per day and per month, as well as to total outstanding payments. You can always check your limits by going to the "Send Money" screen within the Popmoney service and clicking on the "Help" icon next to the "Amount" field.
Will I be paying any fees?
Popmoney charges a small fee of 50¢ per transaction. Additional fees may apply. In the event an item is returned for non-sufficient funds, the vendor will charge a fee of $20.00. This fee is charged by the vendor to the credit union and is passed on to you in addition to any returned item fee charged by the credit union.